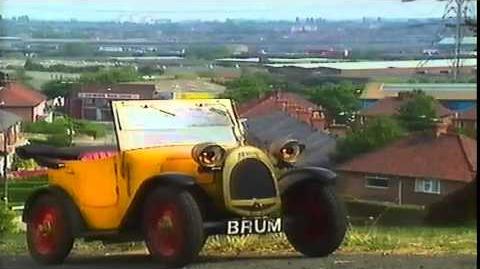 Brum and the Little Drummer Boy is the eleventh episode of series 2 in 1994.
Previous: Brum and the Naughty Kitten
Next: Brum and the Flood
Air Date: December 15, 1994
Brum visits the Big Town early in the morning to visit the bus drivers before a hard days work. Brum visits a marching band, and they realise somebody is missing. But, Brum finds him and claims his alarm clock is broken, so they try to get to the Big Town square with the aid of a bus.
When this episode aired on BBC in the UK and ABC in Australia, it was renamed Brum and the Marching Band.
The company that was featured in this episode was West Midlands Travel. One of Birmingham's major bus company's owned by Centro. almost every episode, they made several cameos, and they got two more roles in the 2000's series.
The bus that was featured was an MCW Metrobus. The company received these when it started and they served every street of the West Midlands and Coventry, Such as Wolverhampton, Walsall, Dudley, Litchfield, Solihull, Bromwich and Smethwick. in 2010, Acocks Green held a farewell tour for the company's first ever buses and they are now retired and preserved. They are also used for driver training.
When Brum is on a hill, You can see the M6 in the background.