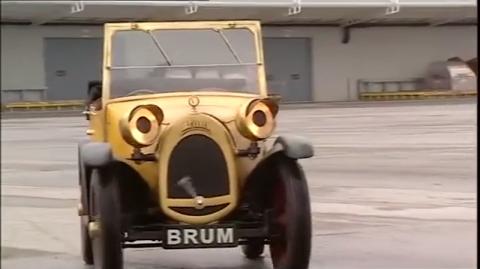 Brum and the Airport Adventure is the first episode of Series 3 in 2001.
Previous: Brum Goes House Painting
Next: Brum and the Naughty Dog
Air Date: September 3, 2001
When precious gems are stolen from a celebrity at the airport, Brum is soon on the trail of the two thieves. Will the two baddies take off with the loot, or can Brum the Superhero stop their plane in time?
This is the first episode of Series 3. It is also the first episode of the new series.
This is the second episode that was shown on CBeebies (Children's BBC) more than any other. The first is Little Girl Lost.
This episode marks the first appearances of Bubble and Squeak, Granny Slippers, The Visiting Man and the Traffic Policeman.
This episode marks the first and only appearance of The Celebrity.
The airport that is featured is Birmingham International.
The aircraft that the baddies board and hijack is an Airbus A300. It started operating cargo services just before this episode was made. The airplane in question was operated by DHL, as clearly marked on the side.
This was the first episode to use the new "Brum Brum Gets Things Done" theme song.
This is the first episode to use Brum's new model, his old model was still seen in the intro and ending as stock footage and the rest of the series.
This episode was produced only eight days before the September 11 attacks on the World Trade Center and Pentagon in the United States. It's also ironic considering the episode is set at an airport and features what could be considered an attempted hijacking. The next episode, Brum and the Naughty Dog, was produced only one day before the attacks.
When Bubble & Squeak run around the airport finding various ways to escape from Brum, this is a reference to the 1999 movie The Matrix.
The scene where Bubble & Squeak go down the stairs on the trolley is two references to two movies: the 1990 movie Home Alone, and the 1992 movie Home Alone 2: Lost In New York.
When Brum gets in front of the plane to stop the thieves, it stops quite quickly, which would have been impossible. In addition the pilot couldn't possibly have seen Brum under the nose of the plane due to the design of the windshield.