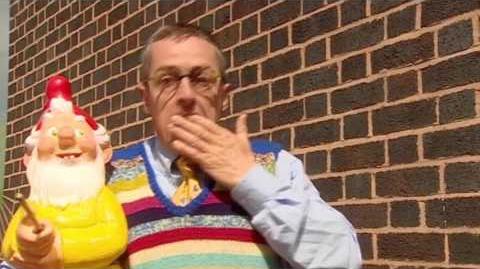 Brum and the Runaway Ball is the thirteenth and the final episode of series 4 in 2002.
Previous: Brum and the Kidnapped Garden Gnome
Next: Brum and the Stunt Bike Rescue
Air Date: July 1, 2002
The Corporation Men are adding some ornamental stone balls to the Big Town Square. One of the balls shoots off the back of their van and thunders through the Big Town. Brum saves the day by miraculously catching the ball and returning it safely to the Big Town Square.
This is the final episode of series 4.
The scene where Brum catches the ball is done in CGI.
The scene where the stone ball rolls towards Brum is a reference to the 1981 movie Indiana Jones: Raiders of the Lost Ark and the Thomas the Tank Engine and Friends episode: Rusty and the Boulder.
When this episode aired on Discovery Kids, the scene where the stone ball crushes Mr. Brillo's car was removed. This is most likely due to negative concerns from the viewers.
The stone balls had appeared in so many episodes of Brum (and became something of an icon) that it was decided that they should have an episode of their own - and this was it.